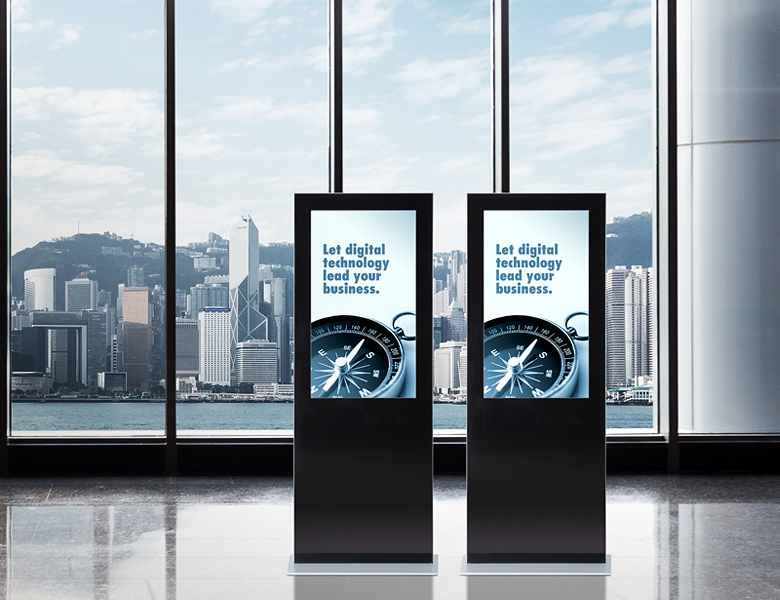 Wireless Connectivity for Digital Signages
To meet the demands of maintaining stable connection and cutting downtime, the router of IR302 provides a reliable and smart wireless connectivity for digital signages.
Digital media systems can display advertisements to customers in high traffic areas such as bus stations, airports and central business districts. Advertisement operators generate revenue by displaying ads for many companies and helping companies to understand their customer segment. There is a small technical challenge in this system: how does the operator update the advertisements in their digital signage?
Installing traditional land-line internet connections adds to the construction time, and manually updating the advertisements is a tedious process that is hard to manage for larger companies. Unlike USB modems or home cellular devices, unattended commercial equipment must be reliable. Any downtime could cause profit lost.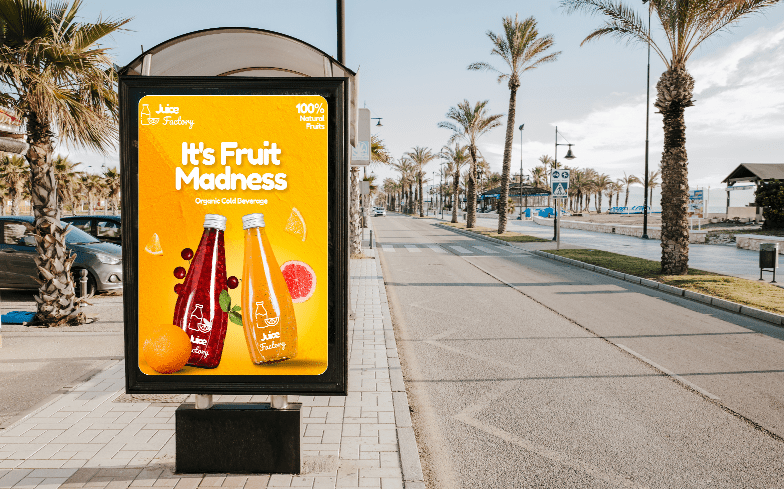 Fast, Uninterrupted and Reliable Communications
The digital signage requires constantly updated content and catchy display to attract visitors and thus help generate more revenue for operators.
Stable Performance in Unattended Areas
The solution needs to perform reliably and flexibly for long time in unattended sites, offering connectivity that is not restricted to cable installation.
The solution needs to enable easy centralized management. Operation and maintenance can be done remotely without travel.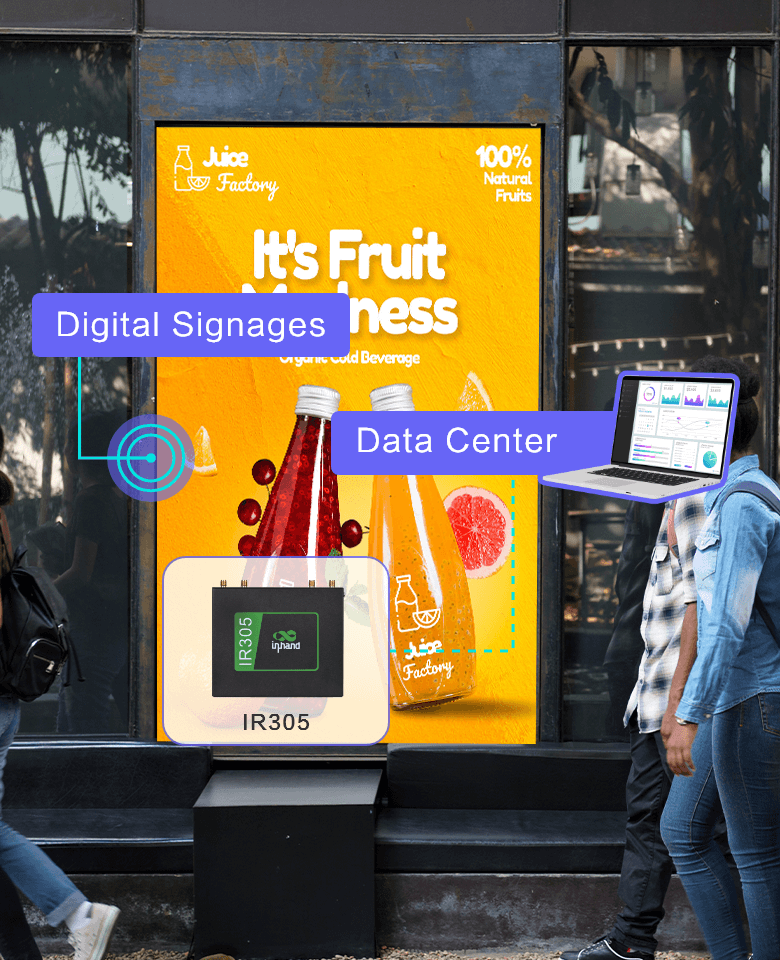 The IR305 router connects to the digital panel with Ethernet. It manages the data usage by automatically entering standby mode when the signage does not require an Internet connection. The panels were designed to update each day at midnight or when the signage operated requested a change. When the panel needs to download a new ad, the IR305 automatically connects to the 4G LTE network. The entire process was seamless and transparent to the passers-by. The digital signage installation can report its operation status and any error reports to a diagnostic center run by a technician.
InHand also provides a free cloud service to help the customer manage the IR305, including traffic management, batch configuration, remote firmware upgrades, cellular data plan management and a simple graphical user interface.
Reliable, High-speed, Uninterrupted Communication
The IR305 provides continuous access to high-speed cellular networks, ensuring efficient data transmission. Multi-layer auto link detection and recovery ensures stable network connection.
Improved Ads Display Increases ROI
The IR305 makes communication smooth and helps deliver better experience. This enables digital signage operators to drive more traffic and earn greater revenue from ads.
Secure Data Transmission and Better Protection
The VPN encryption protects financial data, freeing end-users from security concerns.
Easy for Mass Deployment and Centralized Management
With a compact size, the IR305 easily fits into the space. The Device Manager enables remote management of the routers, making it easy to manage thousands of sites across regions.
Slide 1
Slide 1
Centralized management of your InHand devices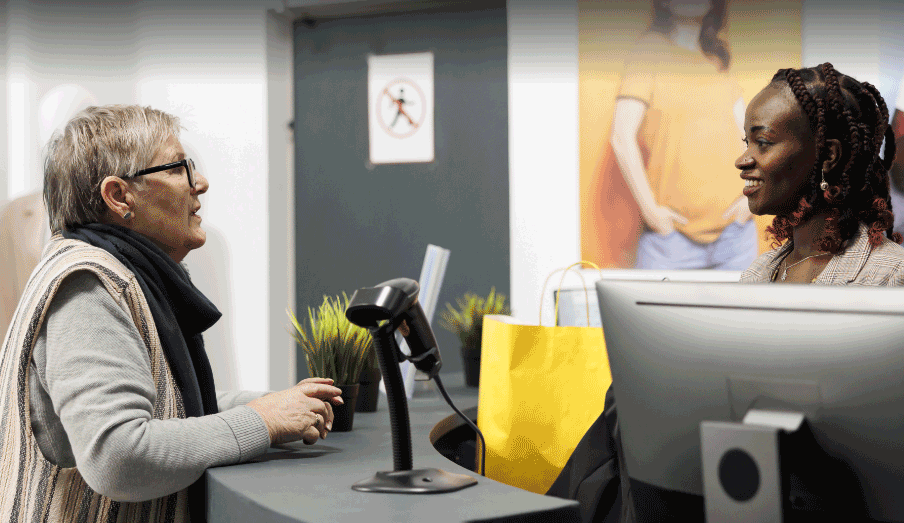 InHand's Wireless POS Solution includes an affordable LTE router and the Device Manager cloud platform to ensure highest level of reliability, maintain uptime and reduce costs for customers.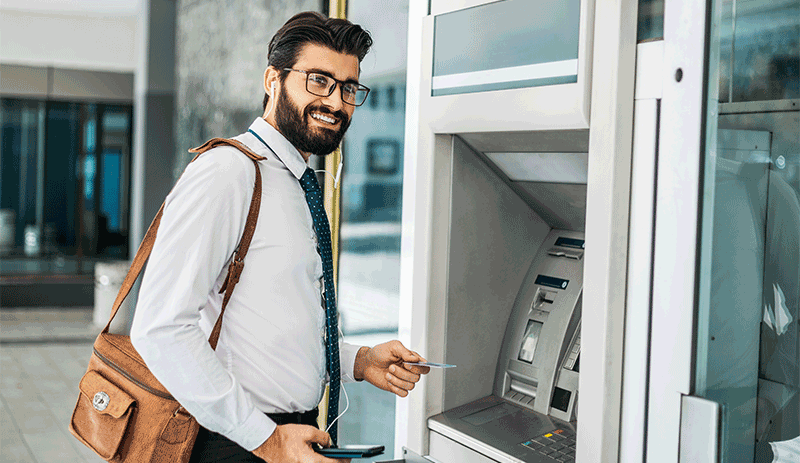 To meet the demands of maintaining stable connection and cutting downtime. The IR302 provides smart and secure wireless connectivity for users to remotely monitor ATMs and conduct timely maintenance.
InHand Networks offers wireless connectivity solutions for mobile retail stores, enhancing operational efficiency through improved merchandise, inventory, and sales data management and analysis.