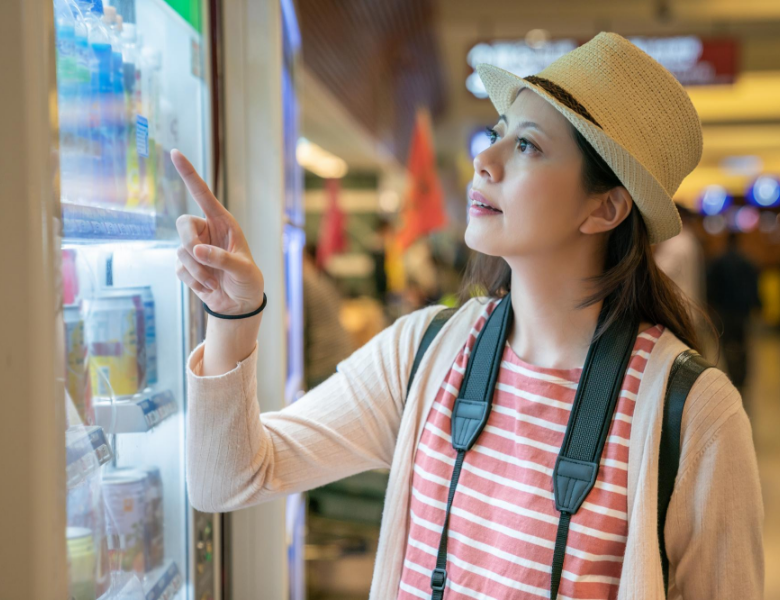 Smart Vending Machine Cloud+Edge Solution
InHand provides a comprehensive cloud with edge solution for vending machine sector, delivering a more user-friendly human-machine interaction and expanded payment options to traditional vending machines. This enhances the shopping experience and aids operators in efficiently managing machines, transactions, and product promotions, simplifying vending machine operations
.
Our customer, a large vending machine operation enterprise, has been operating more than a dozen different brands and types of vending machines for many years. As the number of machines in operation has increased, the customer urgently needs solutions to address challenges such as vending machine management, transaction tracking, delayed machine fault reporting, and limited payment methods.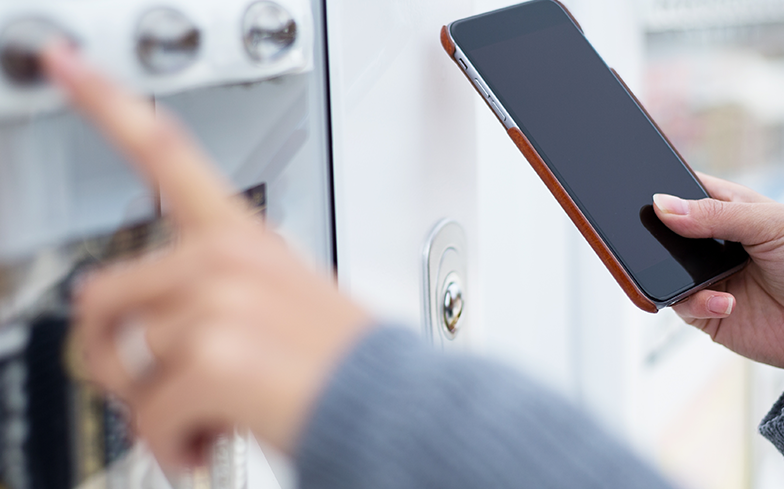 One System for Remote Management and Data Analysis
The customer looks for one system to view all machines of different brands and types remotely at any time to check inventory, sales data, and device status, enabling timely adjustments and optimization of operational strategies.
Customized shopping processes and ad playback provide users with a convenient and pleasant shopping experience, enhancing vending machine sales effectiveness and strengthening brand image.
Payment Methods and Peripheral Expansion
The solution is expected to support various payment methods such as cash, POS, and QR code, catering to different customer payment preferences, and integrate peripherals like cameras and sensors to provide a more diverse range of functionality extensions.
Stability and Reliability for Long-term Operation
Equipment and network reliability is essential, with the ability to withstand outdoor environments like parks and beaches. This minimizes maintenance and downtime, enhancing customer satisfaction and operational efficiency.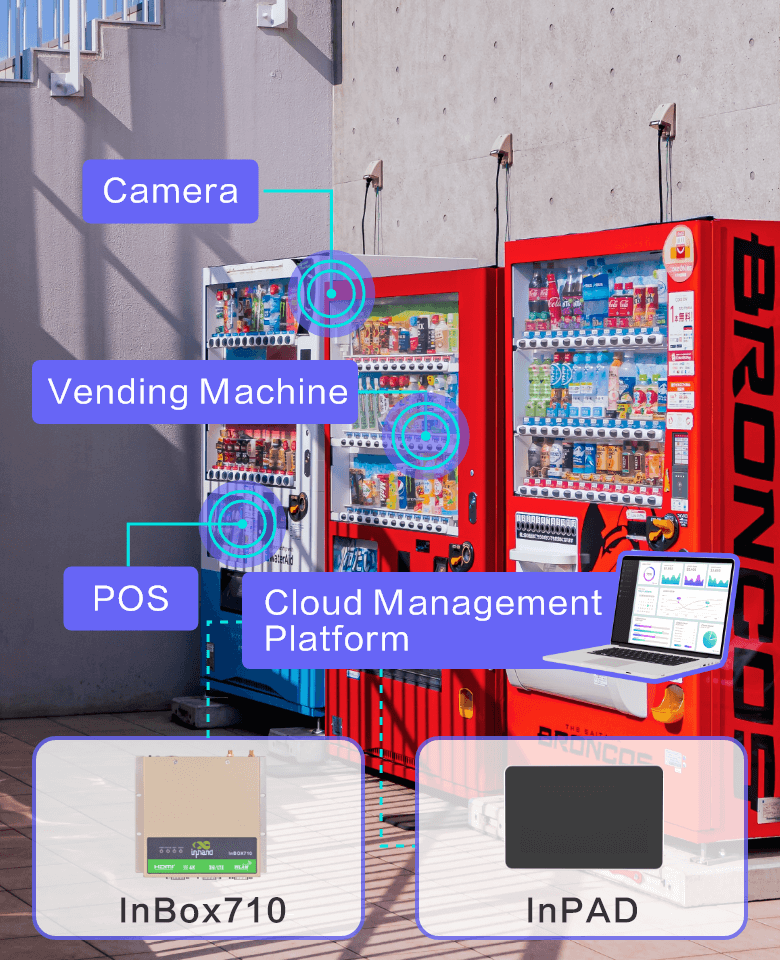 InHand provides this operating enterprise with a comprehensive cloud + terminal solution, devices can be deployed and managed in batches through InVending Cloud,ensuring its customers can monitor and analyze their devices anytime, anywhere. This helps customers find the sales trends, take the data to adjust product placements and price timely to meet the consumers' demands, then to increase sales revenue and profits. This solution aims to simplify the management and operational processes, improving efficiency and reducing labor costs.
The hardware is equipped with a high-performance CPU, abundant interface configurations, supports the expansion of multiple payment methods to meet consumer payment habits, reduces payment barriers. It can also expand more peripheral possibilities for vending machines to address more complex application scenarios.
Increased Management Efficiency with Reduced Costs
The InVending Cloud helps customers monitor vending machine operational status, sales data, and inventory anytime, anywhere. It supports remote configuration and upgrades, optimizing product placement and pricing strategies to increase sales revenue and profits.
Enhanced User Experience and Greater Brand Influence
InHand's products support HD video output, come pre-installed with industry-specific UI, providing a user-friendly shopping experience. They also allow for brand advertisements on vending machines, helping clients enhance their influence.
Diverse Payment Options, Infinite Expansion Possibilities
InHand's products support various payment methods to cater to different consumer preferences, encouraging purchase behavior. They also feature a rich array of interfaces, offering customers limitless expansion possibilities.
Industrial Standard Design, Long-term Operational Assurance
InHand's products, designed with industrial-grade specifications and complemented by a deeply optimized Android system, easily cope with harsh environments, reduce downtime, enhance vending machine reliability, and generate value continuously.
Slide 1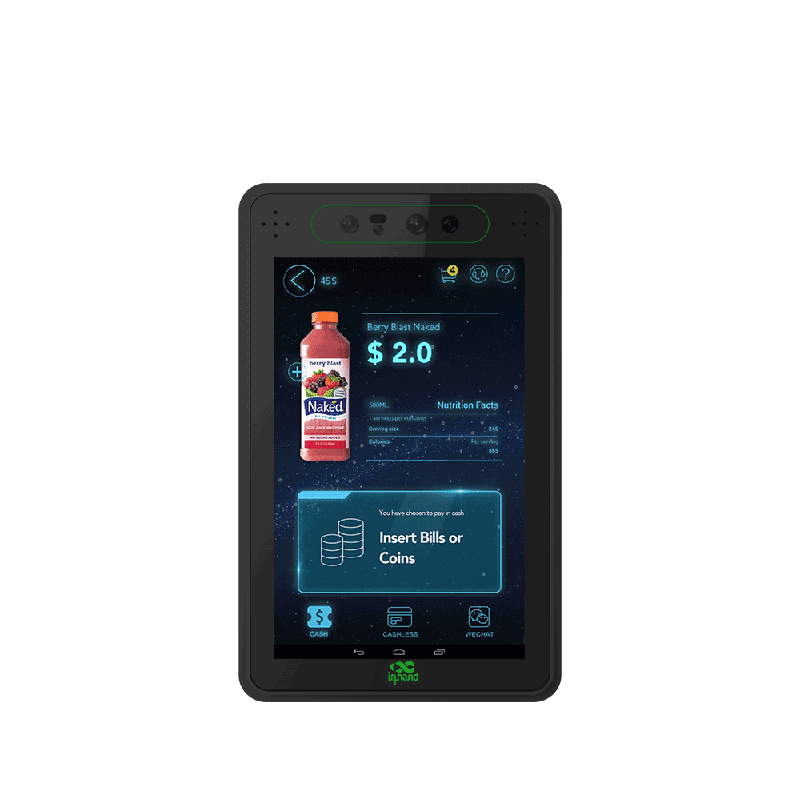 All-in-one ARM-based Android Tablets
Slide 1
ARM-based Android/Linux Embedded Computers
Slide 1
Unattended retail business operation platform.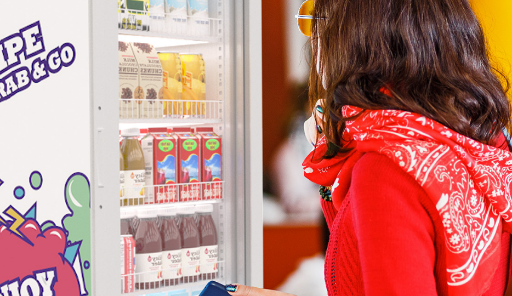 The InHand AI Smart Vending Machine enables quick deployment, streamlined operation and easy remote management from the cloud.
Smart Vending Machine Hardware Solution
InHand provides customers with stable and reliable ARM industrial control series products, assisting them in integrating on-site equipment, processing local data, securely and stably uploading to platforms, and helping customers build and implement their own solutions.