Leverage IT for Explosive Profit Growth
Globalization is fueling the rapid expansion of chain economies, leading to a proliferation of chain stores across the catering, retail, and hospitality sectors. Simultaneously, the ongoing evolution of digital and internet technologies is reshaping traditional brick-and-mortar stores, blurring the lines between online and offline experiences. Next-gen network solutions boost chain enterprises' IT competitiveness without large investments, enabling a focus on core business.
A reliable and secure network is essential to support the smooth operation of digital business. However, traditional network architectures often lack flexibility and scalability, posing challenges for chain stores.
Unreliable chain store networks
A network with just one link is susceptible to failure, and once the link is disrupted, digital business comes to an immediate halt. It is also fragile to support both business running and customer connection, especially during peak traffic hours. Additionally, customers may experience network lag or disconnections while moving around the store.
Sluggish network deployment and ineffective management
Store expansion or network renovation often results in changes to the current network architecture, resulting in network interruption of the existing stores. Moreover, if the deployed branches cannot be managed uniformly, the network in each region cannot be supervised in real-time. Network deployment and management are both facing multiple uncertainties.
Traditional IT infrastructure is expensive

Traditional branches use dedicated lines for networking, so the cost is high, and configuration is complex. There is also no visualized operations, resulting in high management costs.
InHand Cloud-Managed Networking Solution delves into several aspects of business networks, customer networks, network deployment and management, providing comprehensive solutions to address the network issues of unreliability, poor experience, complex deployment and low efficiency in management. It helps chain enterprises overcome network challenges, allowing them to focus on their core business and enhance brand competitiveness.
InCloud Manager enables simplified deployment and reduced costs to facilitate business expansion.
High Availability and Stability
Wired, wireless, and cellular multi-link provide seamless connectivity, creating a worry-free access experience and a stable network to escort digital business.
With smart link policies and detection technologies, the InHand networking solution helps chain enterprises optimize costs, and quickly realize branch networking.
Excellent Wireless Network
InHand solution provides manageable wireless visitor networks, improving the experience for both customers and employees.
High-security hardware and cloud platforms build a worry-free network to protect critical data and assets from attacks.
InCloud Manager, with its visualized UI, realizes fine-grained network management and supports business development anytime, anywhere.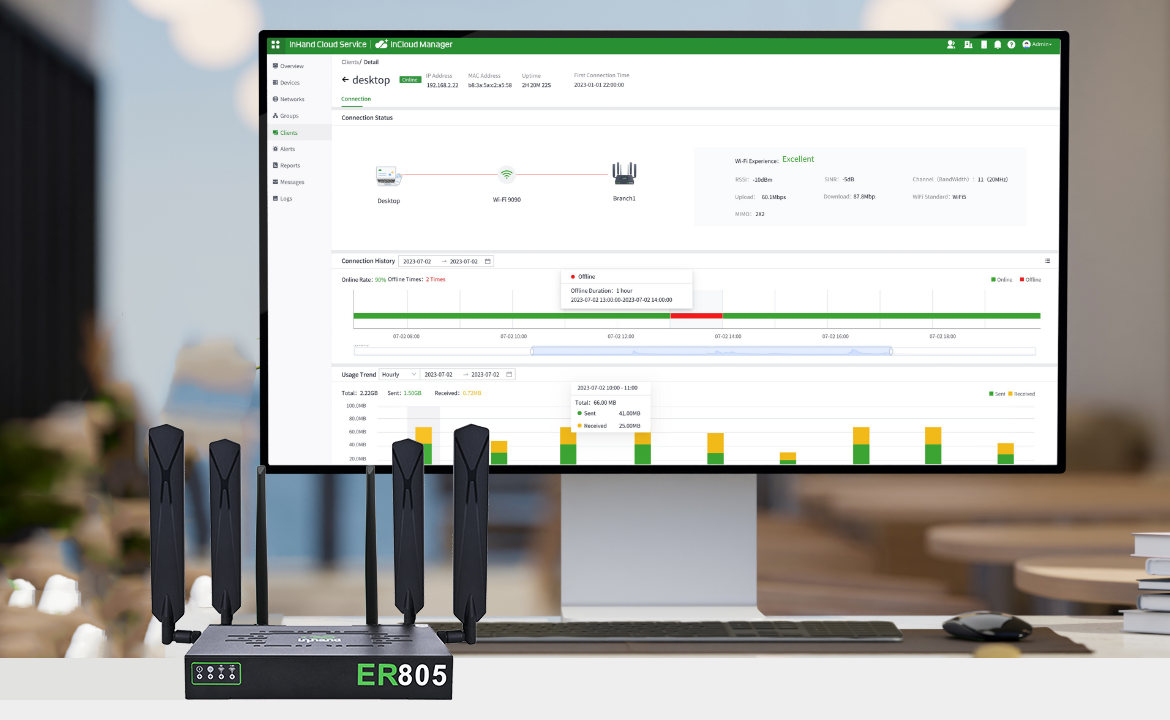 InHand Cloud-Managed Networking Solution​
Keep Everything In Your Hand
InHand 5G edge routers ER805 provide an "Always online" network for retail stores, enhancing digital connectivity of retail and providing customers with an excellent shopping experience.
InHand offers high-bandwidth, low-latency 5G access, providing stable and reliable network services for chain charging stations and creating a comfortable charging experience for vehicle owners.
InHand SD-WAN solution simplifies the connectivity between chain clothing stores and headquarters, enhances store network deployment efficiency, and reduces IT investment costs.