Hybrid Workplaces: Nurturing Productivity Growth
Globalization and diverse working patterns require that companies adapt to various regions and cultures, and provide employees with more flexible options for working locations, allowing them to work efficiently from offices, home, or anywhere else. Organizations shifting towards hybrid workplace are creating more inclusive environments, harnessing innovation from around the globe. This provides employees with greater flexibility and autonomy, ultimately accelerating business innovation.
To provide robust technical support for hybrid workplace, ensuring employees worldwide can work efficiently at any time and from any location, several challenges must be addressed:
Internet access anytime, anywhere
Whether in urban or rural areas, offices or cafes, hybrid workplace requires convenient, fast, and cost-effective Internet access.
High-quality network
Remote collaboration, such as instant messaging, video conferences, and collaborative tools, demands high-quality network connections.
Prioritization of critical business functions
Hybrid workplace often involves a surge in cloud usage, multiple business processes, and application growth, necessitating the prioritization of critical business functions within the network.
Network security
Extensive remote access and wireless networking intensify the demand for network security measures.
Steamlined IT management
IT departments must ensure a seamless digital experience for employees dispersed worldwide while implementing the company's IT standard services.
Simplify IT and create exceptional experience with InHand Cloud-Managed Networking Solution
InHand Cloud-Managed Networking Solution, leveraging its flexible networking, great bandwidth with stability, easy management, and remote access, comprehensively enhances IT network management and network experience of modern enterprises, creating a more efficient, secure, and flexible hybrid workplace.
Multi-dimensional Security Strategies
InHand solution builds a highly secure network environment and data transmission tunnels to protect your network from attacks and threats.
Intuitive User Interface, Simplified Operation
With its intuitive interface and simple operation, the InCloud Manager helps you batch configure your devices without any IT expertise. With clear visibility of network status, it allows managers to quickly identify and troubleshoot issues, and devise network strategies to ensure critical operations.
Multiple Network Access Options
Employees in hybrid workplace can conveniently access the Internet using broadband, 4G, or 5G cellular networks anytime, anywhere.
Multiple Networking Strategies for Various Scenarios
InHand solution provides SD-WAN networking ability, enabling rapid interconnectivity between branches. Simplified configuration and automated routing eliminate the need for extensive networking expertise.
Remote Monitoring and Real-time Alarming
InCloud Manager provides comprehensive network monitoring, facilitating swift identification and resolution of network issues to reduce potential business losses.
Mobile App for On-the-go Management
Devices can be configured and connected to the cloud wirelessly through mobile scanning. IT personnel can monitor network devices and applications anywhere, with much greater flexibility.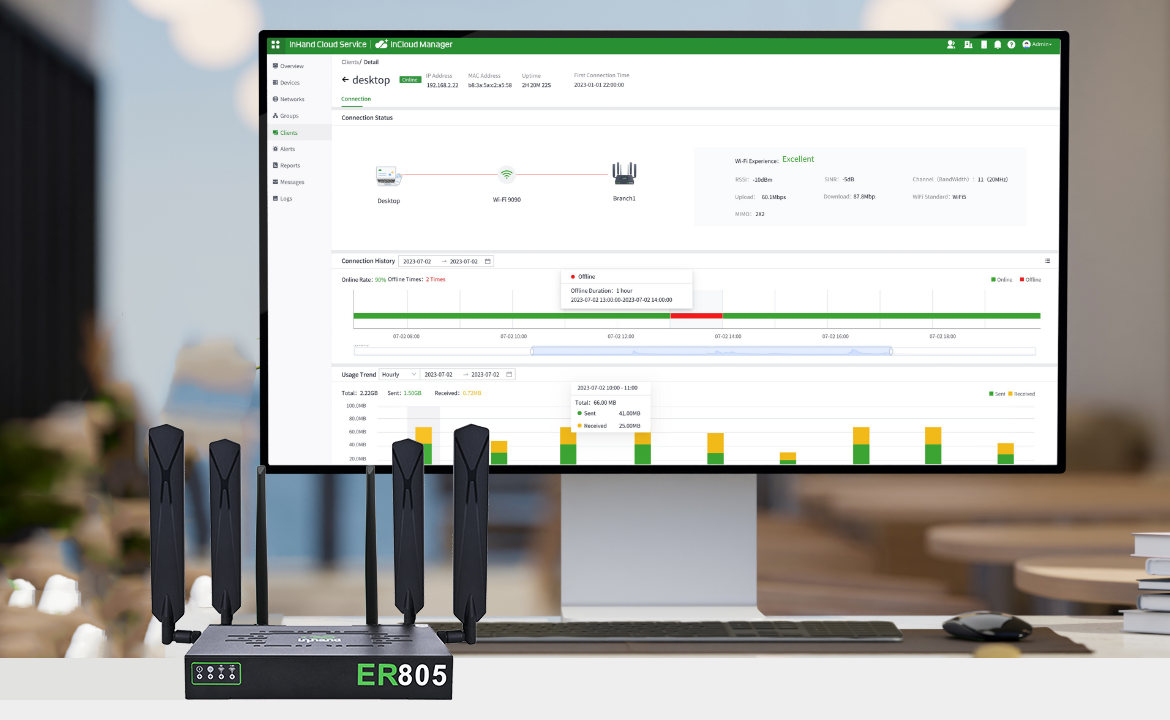 InHand Cloud-Managed Networking Solution​
Keep Everything In Your Hand
The InHand Cloud-Managed Networking Solution offers flexible connectivity options for hybrid workplaces.

The ER805 edge router and InCloud Manager make a solution for timely restoration of network communication and reduce the impact of network failures for your business.
InHand Business Internet Solution offers business branches reliable and stable SD-WAN services, delivering new networking experience.