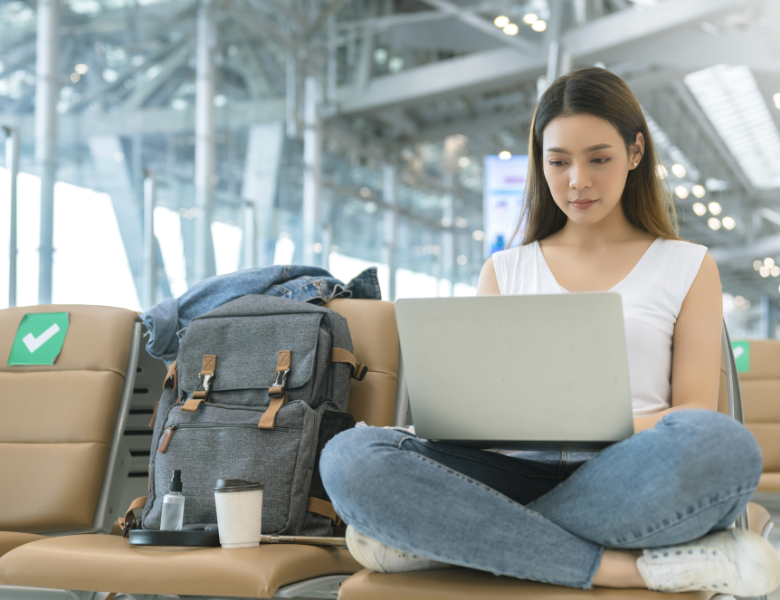 Wireless Connectivity for Business Travel
The CR202 portable 4G cellular router delivers fast and reliable connectivity for business people, making business travel an easy and productive experience.
With more frequent business travel, a growing number of enterprises and professionals need to maintain efficient work status while on trips. They require seamless communication with their company, clients, and teams, as well as online work and data exchange.
Reliance on public Wi-Fi or specific location-based networks risks instability and security, failing to meet the demand for stable internet during business travel. An urgent need arises for an IoT-based mobile connectivity solution, enabling professionals to conveniently access secure and stable internet anywhere, facilitating efficient business activities.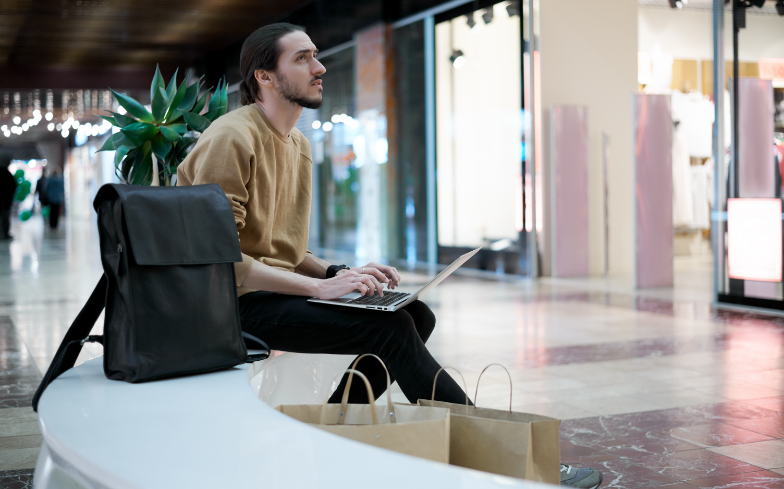 Plug-and-play Mobile Internet Access
Portable devices providing reliable internet connection anytime, anywhere, without relying on public Wi-Fi or specific networks, enabling efficient work and business activities.
Stable and Reliable Connectivity
Ensuring continuous access to online resources, video conferencing, and data transfer in various locations, such as vehicles, hotels, and conference venues, with sustained, high-quality network connection.
Data Security and Privacy
Business travelers handle sensitive business information, necessitating strong security measures to safeguard data from unauthorized access and leaks, ensuring confidentiality and integrity of business activities.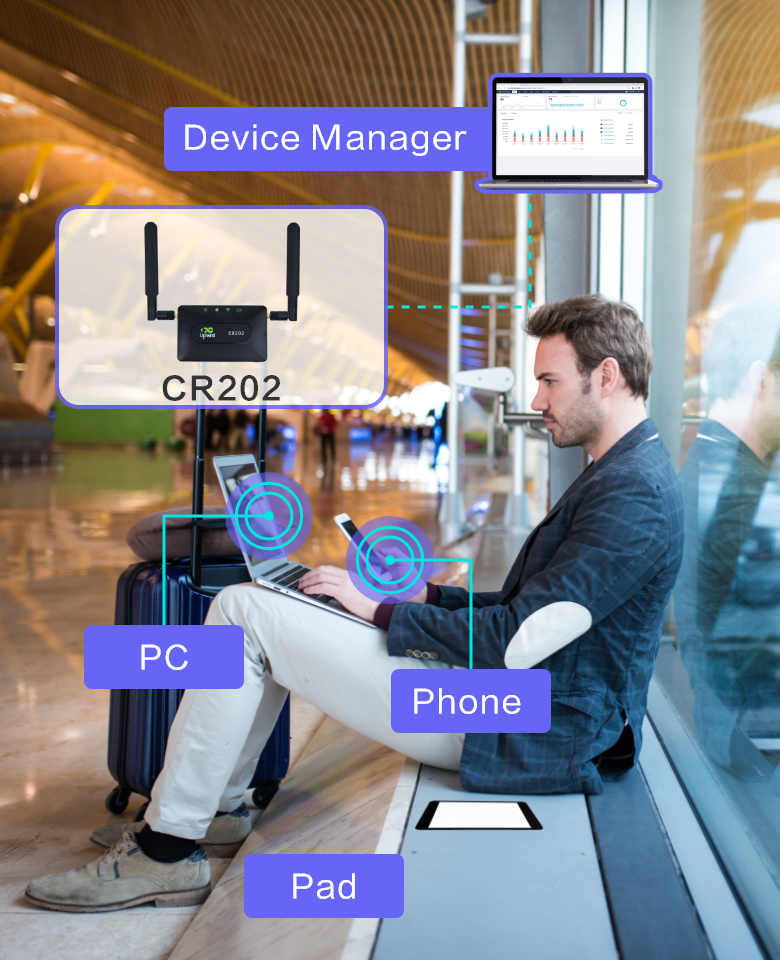 Empowering business travelers, our CR202 allows seamless connectivity of PCs, smartphones, and tablets via Ethernet or Wi-Fi, creating a high-performance network. With a built-in 5000mAh battery, the CR202 provides stable internet on the go.
Using the portable 4G cellular router CR202, InHand Networks ensures fast and reliable connectivity, keeping your mobile devices online throughout the journey, making business trips efficient and effortless. The Device Manager enables quick device status checks and effective support by technicians through cloud connectivity in case of any issues.
High-speed Cellular Network Access
Equipped with external 4G high-gain antennas, the CR202 delivers portable access to high-speed 4G LTE CAT4 networks.
The CR202 supports Wi-Fi networking in both AP and STA modes, ensuring a stable Wi-Fi network. Wireless security encryption with WEP/TKIP/AES and WPA/WPA2 authentication ensure network security.
Portable and Mobile Network
Compact and with a built-in 5000mAh battery, the CR202 offers convenient portability, providing network connectivity anywhere, anytime.
Software and hardware watchdogs, and multiple link detection mechanisms effectively ensure network stability, reducing the risk of network failures.
The CR202 supports SPI full-state detection, preventing DOS attacks and filtering multicast. It includes firewall features and offers access control, content filtering, port mapping, DMZ, virtual IP mapping, and MAC-IP address binding. The multi-layered security strategies safeguard sensitive data and critical business networks from attacks and threats, providing a secure and worry-free network.
The CR202 is managed by the Device Manager, allowing real-time device monitoring and on-demand control of device status.
Slide 1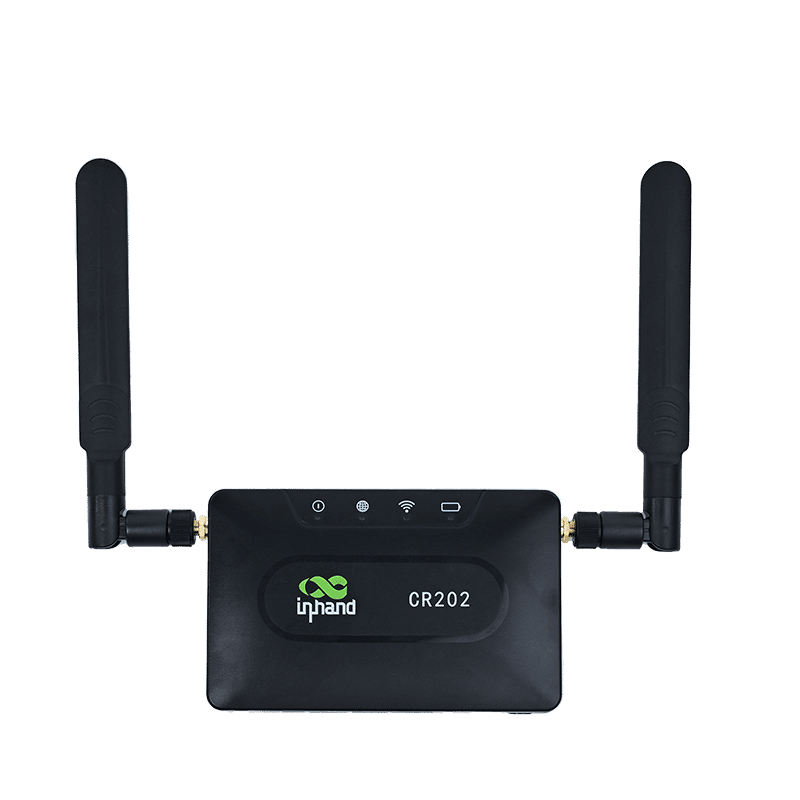 Slide 1
Manage, configure and control your InHand Devices
With the CR202 portable LTE router, you can take your show anywhere and keep the action going all day long!
With dual Ethernet, 300Mbps Wi-Fi, CAT6 networks, dual external antennas, as well as 5000mAh battery, the CR202 delivers the connectivity as you need for a fixed store!
InHand Cloud-Managed Networking Solution offers simple and fast deployment and a centralized management platform to convenience stores, enhances your network management efficiency with lower costs, boosting your business expansion.