What is DTU and what can it be used for?
DTU stands for Database Transaction Unit (also called serial server, IP Modem and industrial IoT terminal device), which can be used as a gateway in some application scenarios. The difference between DTU and wireless modem is that wireless modem is a physical tunnel to access network. It does not have operational system; thus working with PPP dial-up connections of PCs to get connected is required. In respect of DTU, it is a combination of embedded PC and wireless Modem, which is not only used as a modem but also have functions of data protocol conversion and transparent transmission.
DTU can connect to the industrial SCADA system directly. While in the mode of transparent transmission, the SCADA system is able to communicate by having an individual IP address. When DTU is used as a Modbus network bridge, DTU needs to have a static IP address. In this sense, data interaction with the SCADA system can be accomplished by the Modbus protocol. DTU supports smart protocol conversion to meet the communication demands between various protocols. So far, DTU has supported the conversion between Modbus TCP and Modbus RTU, enabling field devices to connect to the SCADA system. InDTU also supports user-defined login with TCP/UDP, heartbeat monitoring, field identification and keeps link availability.
InDTU series is stable, reliable, easy to use with the features of flexible management and protocol transmission. Compared to other DTU products, InDTU has the following characteristics:
First, up to now, InDTU series has been sold up to millions of units around the world and certified by various countries, supporting all kinds of wireless networks across the globe with excellent level of failure and online rate, and its stability has been widely recognized by our customers. Then, a high reliable design, like embedded watchdog to ensure high device availability; multi-layer link detection mechanism, including PPP layer heartbeat, ICMP detection, TCP Keepalive and heartbeat on the application layer; automatically recovering network failure and maintaining "always online" wireless connection; dual SIM cards for redundant backup, all of these designs allow InDTU to remain "always online" connection and comprehensively improve its reliability.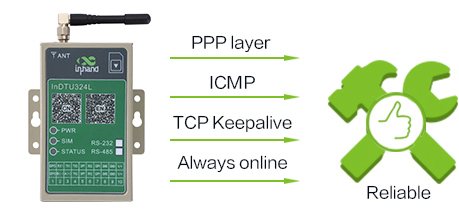 The network signal intensity of carriers varies from region to region. DTU is configured with dual SIM cards of different carriers, failover will take into action: it can automatically switch SIM 1 to the SIM 2 network in case the device goes offline.
Meanwhile, InDTU series has multiple management and configuration modes. For instance, local serial port settings, remote RTool & SMS configuration and InHand Device Manager platform for remote centralized management, facilitating the implementations of customer projects and equipment maintenance. Additionally, InDTU adds the second serial port design in a creative way to make it has the function of remote maintenance of field terminal devices, which simplifies users to debug serial devices remotely. Because of dual serial ports design, while InDTU works stably, it can be maintained online, which can well balance its online rate at the same time. For example, the electric-power industry, DTU connects the terminal devices of DA on the DA terminal system, and its upper end is connected to the main station of the distribution center. If there is a need to change a configuration parameter of DTU, such as changing an upload time interval, the configuration can be completed without unplugging the serial port which connects the device, ensuring the online rate of the terminal devices.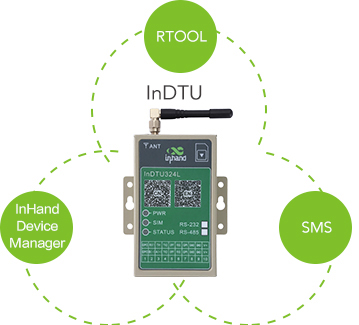 Last but not the least, InDTU supports Intelligent Protocol, making networking more flexible and enabling it to adapt to more applications. For instance, Modbus TCP/Modbus RTU protocol conversion is supported, which seamlessly connects the industrial SCADA and on-site industrial devices; InDTU also supports user-defined login with TCP/UDP, heartbeat monitoring, field identification and keeps link availability.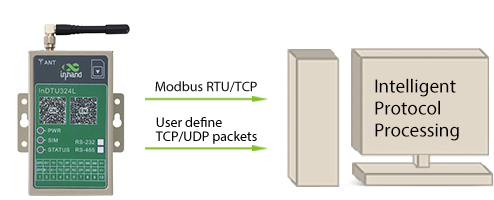 InDTU is a high-level product launched by InHand over decades. During the last ten years, there are tens of thousands of products that have been put into use every year in the field of smart grid, providing reliable and secure remote connections at side of voltage distribution and having created much more product value for users. For meeting the demands from many industries that only need basic networking, InHand launched the InDTU300 series, which is positioned as low-cost, ultra-cost-effective, stable, reliable, simple and easy to use IoT communication terminal device. As a serial server, it can support the full coverage of wireless cellular networks such as 2G/3G/4G/eMTC/Nb-IOT with features of stability, reliability, flexible management and protocol conversion.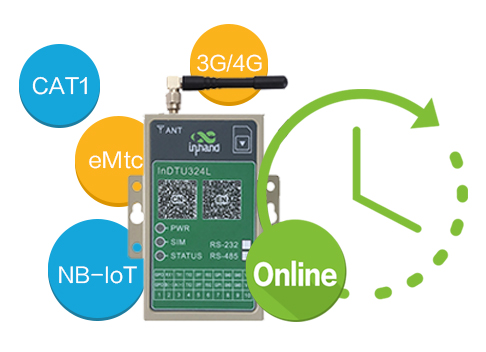 The InDTU300 series has lower power consumption and wider application range, which can be used in water conservancy, municipal administration, environmental protection, meteorology, heating and other industries. The product is more adaptable to battery-powered outdoor environment, and it is far below the average power consumption level in the industry, satisfying those industries which are located remotely. In the application scenario where it is inconvenient to get outdoor power and requires battery power supply, the low power consumption of DTU can help users save battery expenses in a more stable status.