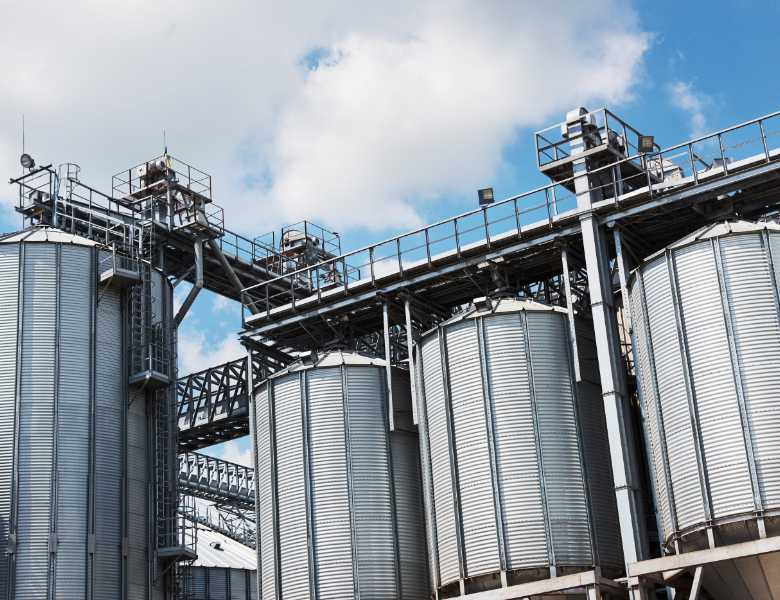 Intelligent Concrete Mixing Station Solution
The IR915 connects one or more field PLCs to form a field network of concrete mixing equipment, collect data of field controllers and sensors, and upload the data intelligently with local caching mechanism. In this way, data reliability, real-time and security are ensured, with saved data flow costs.
As large-scale infrastructure projects continue to expand, the market demand for concrete mixing equipment in the construction industry is growing rapidly, whose technical performance directly influences project quality and lifespan.
However, maintaining concrete mixing stations poses several challenges. Besides routine upkeep, timely inspections, repairs, and component replacements require substantial effort. Traditional maintenance often relies on manufacturers' service departments at distributed locations or involves on-site visits by company staff, leading to increased after-sales costs for manufacturers and significant disruptions to equipment users' production schedules.
Enhance productivity and optimize workflows. Real-time monitoring and remote management reduce human intervention and errors, enabling automated control and adjustments, thus boosting production line performance and output.
A smart management system enhances efficiency and decision-making accuracy. Centralized data storage and analysis, powered by big data and AI technologies, facilitate data mining and predictive analysis, providing reliable insights for decision-making.
Better Safety and Reliability
Real-time monitoring of equipment operation and key parameters allows prompt identification of anomalies and proactive alerts, minimizing risks of accidents and failures, and improving equipment reliability and operational safety.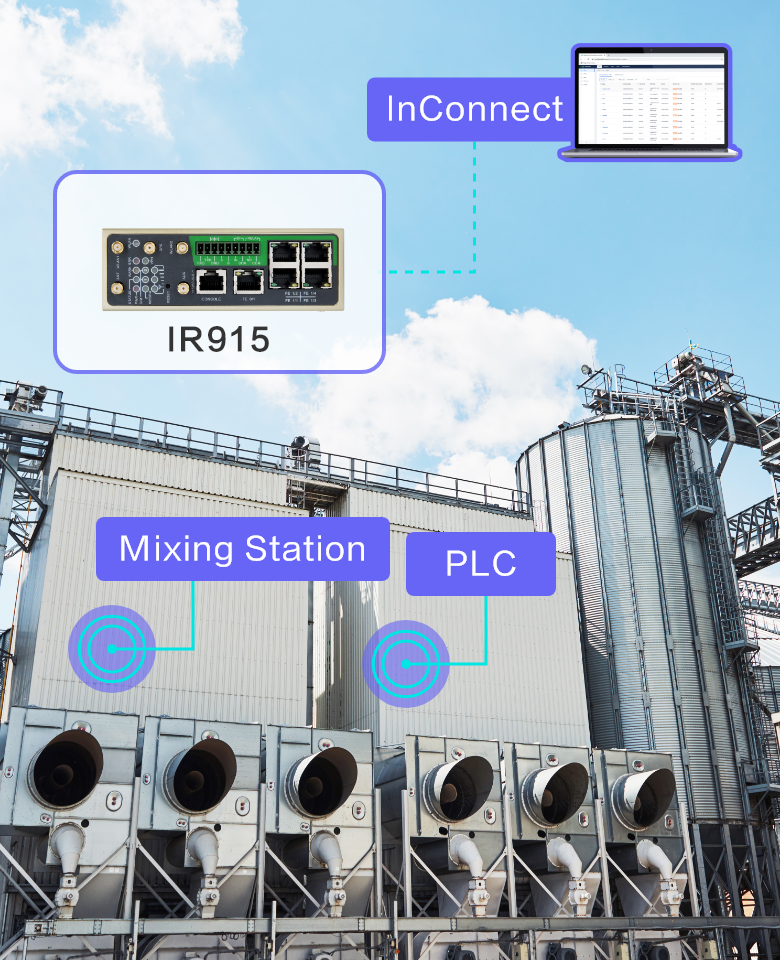 InHand delivers a remote maintenance system for concrete mixing equipment, based on PLC and wireless communication technology. Leveraging the advanced industrial router IR915, this solution enables real-time remote diagnostics, warnings, and maintenance of the mixing equipment, even when operators are away from the production site.
The concrete mixing station online system consists of PLCs, the IR915, and a monitoring center. The IR915 establishes local networks with one or multiple on-site PLCs, securely transmitting real-time data to the monitoring center for analysis and management.
Maintenance engineers can establish a secure tunnel between the on-site PLC and the InConnect remote access service. This enables them to perform fault diagnosis, remote updates, and modifications of controller programs for production line hardware devices, ensuring smooth production operations.
Reliable, Uninterrupted Network Communication
With link backup and VRRP technology, the solution ensures fault-tolerant links and 24/7 online operation. With dual SIM, it enables multiple carrier network options and ensuring continuous data transmission through dual-network redundancy.
Industrial-grade Design, Resilient in Harsh Environments
From processing chips, communication modules to electronic components, all components adhere to high industrial standards, guaranteeing stable operation even in challenging environments. Featuring robust metal casing, fanless cooling, IP30 protection, wide temperature and voltage ranges, and high EMC rating, the product is built to withstand extreme environments, ensuring continuous communication between remote devices and monitoring centers.
Unified Cloud Platform, Effortless Remote Maintenance
Integrating the InConnect remote access service, the solution allows real-time management of thousands of distributed site devices. It facilitates remote deployment and maintenance, and provides full control of on-site operations, making management easier, more efficient and cost-effective!
Globally Certified, Globally Applied
The IR915 is globally certified, meeting CE, FCC, UL, PTCRB, CCC, Verizon Wireless, and AT&T standards.
Slide 1
Router with complete software functions and industrial-grade design
Slide 1
Remotely access your onsite machines anywhere anytime
Featuring powerful edge computing capabilities, support for multiple industrial protocols and IoT clouds, industrial design, the IG502 delivers a reliable remote monitoring solution for air compressors.
Featuring strong data transmission and edge computing capabilities, the IG502 offers a remote monitoring solution for distributed machines and enhances efficiency for facility operation and maintenance.
Medical devices can be connected to the IR305 industrial router through Ethernet or Wi-Fi, so that multi-dimensional status data of these devices can be transmitted to the management center for monitoring and remote maintenance.